12 Nights Nairobi, Amboseli, Mount Kenya, Maasai Mara, Serengeti and Ngorongoro
Program at a glance
| | | | |
| --- | --- | --- | --- |
| DATE | ACCOMMODATION | MEAL PLAN | ACTIVITY |
| DAY 01 | FAIRMONT THE NORFOLK HOTEL, NAIROBI | Bed and breakfast | Airport transfer |
| DAY 02 | FAIRMONT THE NORFOLK HOTEL , NAIROBI | Bed and breakfast | Full day in Nairobi for excursions. |
| DAY 03 | TORTILIS CAMP AMBOSELI | Package | Afternoon gamedrive |
| DAY 04 | TORTILIS CAMP AMBOSELI | Package | Morning and afternoon gamedrives |
| DAY 05 | FAIRMONT MT. KENYA SAFARI CLUB | Fullboard | Afternoon at Leisure. |
| DAY 06 | FAIRMONT MT. KENYA SAFARI CLUB | Fullboard | Full day to enjoy the Resort's facilities. |
| DAY 07 | & BEYOND BATELEUR CAMP, MAASAI MARA | Fully inclusive | Afternoon gamedrive |
| DAY 08 | & BEYOND BATELEUR CAMP MAASAI MARA | Fully inclusive | Morning & afternoon gamedrives |
| DAY 09 | & BEYOND GRUMETI SERENGETI TENTED CAMP | Fully inclusive | Afternoon gamedrive. |
| DAY 10 | & BEYOND GRUMETI SERENGETI TENTED CAMP | Fully inclusive | Morning and afternoon gamedrives. |
| DAY 11 | & BEYOND NGORONGORO CRATER LODGE | Fully inclusive | Afternoon at leisure. |
| DAY 12 | & BEYOND NGORONGORO CRATER LODGE | Fully inclusive | Full day crater tour. |
| DAY 13 | FAIRMONT THE NORFOLK HOTEL (Dayroom) then DEPART. | | Airport transfer. |
Program in detail
DAY 01: NAIROBI
Upon arrival in the Kenyan capital, you'll be met by our representative and transferred to the Fairmont Norfolk Hotel, where most—if not all—of those potentates and royals stayed, dined, and chummed around before setting out on safari.
Overnight at Fairmont The Norfolk Hotel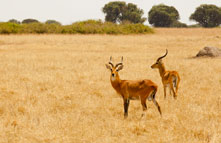 DAY 02: NAIROBI
After breakfast tour the famous Dapne Sheldrick ophanage then over to the Giraffe Centre for some interspecies camaraderie, and visit the former home of Karen Blixen, author—writing as Isak Dinesen— of Out of Africa, one of the most evocative books ever written about any earthly place. Later driven back to your hotel.
Overnight at Fairmont The Norfolk Hotel
DAY 03& 04: AMBOSELI NATIONAL PARK
We fly south this morning over the Athi Plains to the natural wonderland of Amboseli National Park. Mount Kilimanjaro, the still-glaciated monarch of Africa, presides over Amboseli, thrusting three dizzying miles above the park's grasslands. As Peter Matthiessen wrote in The Tree Where Man Was Born, "A snow peak in the tropics draws the heart to a fine shimmering painful point of joy."
Tortilis Camp is our base for game drives in this almost incomparably rich animal kingdom. Our spacious, luxuriously furnished, thatch-covered tents nestle under the huge and reposeful Tortilis acacia trees from which the camp takes its name. Unwinding on our veranda, we might, like Isak Dinesen, watch a parade of elephants "pacing along as if they had an appointment at the end of the world."
Dinner and overnight at Tortilis Camp
DAY 05& 06: MOUNT KENYA SAFARI CLUB
Today we'll fly through Nairobi and up North to Mt. Kenya Safari Club in Nanyuki.
For the past 50-odd years (ever since actor William Holden and some of his hunting buddies founded it), the Mount Kenya Safari Club—now part of the Fairmont collection—has been a magnet for just about every safariing nabob.
Along with stunning views of Mount Kenya, the club offers tennis; trout fishing; croquet; horsebacking; walking in gardens bubbling with exuberant tropical flowers; visits to nearby game reserves; and some of the most satisfying dining in either hemisphere (the club straddles the equator and so occupies both the Northern and the Southern Hemispheres at a salutary 7,000 feet above sea level).
Dinner and overnight at Mt. Kenya Safari Club
DAY 07 & 08: MAASAI MARA GAME RESERVE
This morning we'll fly over the planetary rumple of the Great Rift Valley—it makes "the Grand Canyon look like a line scratched with a toothpick," John Gunther wrote in Inside Africa—to the Maasai Mara, the northern sector of the bigger-than-Belgium Serengeti–Maasai Mara ecosystem, unquestionably the earth's greatest haven for large mammals, more than 70 species of which go about their business in the oceanic Serengeti–Maasai Mara grasslands.
Enjoy the luxurious Bateleur Camp and gamedrives throughout the Mara, make side trips to the Mara River and its tributaries for a gander at leviathan crocodiles and hippos.
Dinner and overnight at & Beyond Bateleur Camp
DAY 09& 10: SERENGETI NATIONAL PARK
We fly to the Serengeti via Nairobi and Arusha, Tanzania. Three million or more large mammals—Elephants, cheetahs, gazelles by the gazillions, wildebeest, zebras, giraffes "floating across the plain" (thanks, Ms. Dinesen), lions, rhinos, and going on 60 more species— inhabit the great grassland, its riverine forests, and bustling, set-piece kopjes, rock islands that pop up from the plain.
We'll spend our two Serengeti nights at the Grumeti Serengeti Tented Camp.
Grumeti is a chic, 10-tent camp set along the banks of an oxbow lake, bustling with stunningly sizable crocs and hippos, always heftier than we remember. These are the kinds of African places that we love to introduce our guests to, places that seduce us into slowing down.
Dinner and overnight at Grumeti Serengeti Tented Camp
DAY 11&12: NGORONGORO CONSERVATION AREA
Today, after the sumptuous breakfast at the Grumeti Camp, you will betransferred to the nearby Grumeti Airstrip for your flight to Lake Manyara. You will be met at the Airstrip and transferred to Ngorongoro Crater Lodge, perched on the rain-forested rim of the Ngorongoro Crater, one of our solar system's greatest geographic ornaments.
Today one sees the Hippos with wonder, encircled by steep walls." Indeed, meandering around the softly lush caldera floor, we may feel like Professor George Edward Challenger and Lord John Roxton in Arthur Conan Doyle's thriller The Lost World. True, we won't see any Aardonyxes or Zupaysauri, but—as we often say—once you've really looked at a rhino, or contemplated the gigantic unlikeliness of an elephant, your old sadness at never having seen a dinosaur will be lightened.
Dinner and overnight at Ngorongoro Crater Lodge
DAY 13: NAIROBI
We fly to the Nairobi via Kilimanjaro International Airport. Arrive in Nairobi where you will be transferred to your Hotel to freshen up before being transferred to the Airport for your flights back home.
———————————————————————————————————————
END OF SERVICES
——————————————————————————————————————-
Prices in USD
High season (June – March) –
Low season (April – June) –
OUR PRICE ABOVE INCLUDES
• Arrival and departure Airport transfers in Nairobi.
• Bed & breakfast in Nairobi Hotel, full board accommodation while on safari with selected drinks.
• Safari in 4×4 Land cruisers with English speaking driver guides.
• All park entrance fees, game drives as indicated on the itinerary above.
• All domestic flights.
• All excursions and meals indicated in the itinerary.
• Flying doctor's service.
NOT INCLUDED
• International flight tickets and visa cost.
• Travel and medical insurance.
• All items that are purely of a personal nature e.g. tips, porterage e.t.c.
• All other services not shown in "OUR PRICE INCLUDES" above.